If you're planning on implementing running as a part of your cardio workout regimen or has already run as a part of your workout, it is important to take into consideration what type of shoes would best support your feet in this workout, especially if you are someone that have flat feet. Companies have taken into consideration that some people have over pronation and as a result has developed shoes with their best interests and comfort as the forefront of their design.
Here are the best shoes on the market for people with flat feet.
Brooks Adrenaline GTS 18
The Brooks Adrenaline GTS is designed with users comfort in mind. This shoe is lightweight being only 10 ounces and is great for people with a flat or medium foot arch. With its new sleek design, designed intentionally with the curves of your feet and ultimate support in mind, the modern designs that compliment any outfits with their use of smooth lines and complimentary colors.
Worried about creating a color clash with your outfit? The Adrenaline GTS 18 comes in numerous colors, including neutral colors such as monotone grays and black and more bold, bright such as bright pink and blue, which make a fashion statement all on their own.
This shoe also maximizes support with its soft BioMoGo DNA midsole cushioning that adapts to your stride enhancing the comfort in wearing this shoe while using the Progressive Diagonal Rollbar to ensure that your body is aligned properly with every step you take. With the Segmented Crash Pad, this shoe is designed to adjust to your specific foot landing and create smooth transitions as you walk while maximizing your comfort and alleviating the stress placed on your feet. Walking or even running long distances are less taxing on the feet as these work to maximize your comfort by supporting your footing every step of the way.
Asics Gel Kayano 25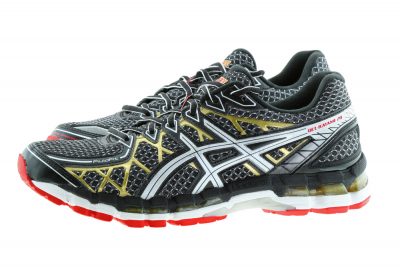 The Gel Kayano 25 created by Asics is one of the best shoes on the market for people with flat feet. Designed specially for people with over pronation, the Gel Kayano 25 is equipped with specific technologies to create smooth footing and lessen the stress on a person's feet. This shoe uses FlyteFoam technology because of its elasticity which gives users a better bounce, putting less emphasis on the heel to toe transition and great cushioning which provides support and comfort for its users, in addition, to be very light in weight and super durable.
The Gel Kayano 25 is also designed with mesh to increase flexibility and elasticity, allowing the shoe to adapt to your footing while establishing support and the ability to hug the curves of your feet as they bend into different positions. The simple mesh-like design of this shoe allows your feet to breathe while maintaining a modern look with its curved lines and coordinated color scheme. This shoe comes in various colors within this design scheme, making them adaptable and available for users to choose their favorite color schemes and which color would work best with their outfits.
Brooks Beast 18
The Brooks Beast 18 is created with the best technology to maximize the comfort and support of people with flat feet. Only available in two colors, a soft grey with dark indigo and white highlights and in black with silver and gray highlights, the Beast 18 focuses on the services that these shoes will provide to its customers over their color availability. With a weight of only 13.3 ounces, this shoe is equipped with the Extended Progressive Diagonal Rollbar which provides exceptional support for your feet by allowing your feet to maintain its natural footing with added support that limits the negative effects of your footing.
Additionally, this shoe is made with a Super DNA midsole which provides extreme comfort through its ultra-soft and flexible cushioning while fully supporting your feet as they move into new and even difficult positions. The outer layer of the shoe is made with mesh that allows the Beast 18 to be flexible, breathable and more spacious in regard to toe spacing. Lastly, the external heal works to provide extra stability for your gait and natural footing.
Asics GT 2000 6
The GT 2000 6 created by Asics is beautifully designed with a simple design that upholds the Asics brand while including features that promote the health of its users. This shoe is made with mesh that outlines the out layer of the shoe, giving the shoes its breathable and flexibility features.
Another key material that is used in this shoe's design is foam. Foam is used to provide elasticity and flexibility in the midsole, and this allows the shoe for curving and support the users natural footing and enhance the heel to toe transition by bouncing back and reducing the negative impacts of your footing. The cushioning systems in the heel of the design absorb the shock of the footing impact, lessening the stress on the joints while supplementing the natural curved movement through the foot and to the toes. This allows the shoe to adapt to your natural footing while providing support and comfort to your natural gait. The GT 2000 6 is extremely lightweight weighing a shocking 10.5 ounces and comes in ten color schemed themes, which provides a variety for customers.
Mizuno Wave Inspire 14
The Mizuno Wave Inspire 14, weighing only 11 ounces, is made out of carbon rubber that makes the product resistant to common wear and durable against the elements. With SmoothRide technology, this shoe promotes a smooth transition with every step. This shoe is also equipped with cushioning for comfort and support of the feet sole. Lastly, this shoe has a layer of mesh that allows the shoe to be breathable and works as a ventilation system that reduces heat during workouts and accumulating less sweat. The Mizuno Wave Inspire 14 is designed to hug the curves of your feet for better usability and comfort. This shoe is also available in five different colors.
You should not have to hinder your workout regimen or progress for fashionable workout gear that is uncomfortable and even painful to use. These shoes designed for people with over pronation incorporate both the support and comfort that people with this condition require with sleek and trendy designs.